April 3, 2012 - I haven't blogged on my site because I've been writing elsewhere on the net. I'm also deeply involved with a couple of new scripts. (Yes, my TV pilot is moving forward). I started a 6 month Pro-Series class at ScreenwritingU with Hal Croasmun out of Los Angeles. Good stuff. Challenges, challenges, challenges. Very important!
May 25, 2011 - Has life miraculously 'turned around' for me? Perhaps I've found purpose and compassion via suffering and failure? Regrettably, the answer must be a resounding NO. Redemption is not inevitable. Pain is sometimes merely painful. Oh, how banal - the plight of moral man.
April 16, 2010 - I feel shell shocked. I've been in the midst of combat, metaphorically. I'll explain more in my next update.
February 2, 2010 - I celebrated 2 years of sobriety yesterday. I can hardly believe it. Truth be told, sobriety is the hardest thing I've ever done. Living in the 'real' world feels strange. I'm so used to a 'dream' world. Since I'm a writer, I exist in 'my head.' So much safer. People can't hurt you.
January 11, 2010 - I'm going to celebrate 2 years of sobriety on February 1, 2010. It's been the worst two years of my life. I keep wondering - is this life?
January 9, 2010 - I wanted to add to my blog - instead I posted on my home page. Check it out.
December 4, 2009 - I've finally summoned up the courage to add to my blog. Sometimes I wonder if there's really any point to the whole thing. I mean, really, all I seem to write about involves despair and hopelessness. Rather boring to read. There is self-knowledge in the process of writing though. This is a good and a bad thing. The pen/computer has allowed me to come to terms with my own mortality. There is a sense of relief in acceptance. So, if I have learned and 'accepted' that the seeds of my own destruction lie within, I can let go of the whole "life is worthwhile'' mythology. (Or is that lies? Or lies? Frankly, grammer bores me too. Especially good grammer). Conclusion for the day: Existence is a daily choice.
One caveat - I do believe that the life of a sentient creature is priceless. I simply don't think that my life is that valuable.
July 4, 2009 - Well, I'm still alive. Pretty amazing when I think about everything that's going on in my life. Of course, I continue to search for meaning, a raison d'etre. Sad but true - this is an existential quagmire that may be insurmountable.
October 31, 2008 - Just wanted to write about an amazing friend of mine. Her name is Sheri S. and she's been showing me a better way to live. Happy, Joyous and Free!!! Seems like an unobtainable goal except when I look at her - living proof that miracles happen! Happy Halloween.
September 20, 2008 - I have the best friends in the world! They have been so supportive, dragging me out to dinner, walks in the park, etc. Anything to keep me busy.With their help, I've been able to start writing again. (Well, I'm rewriting at least). Better than nothing. First drafts have always been tougher than rewrites. God Bless the kindness of friends - Amen and Amen!!!!!
August 1, 2008 - Well, I didn't think life could get much worse - but it has. I don't want to spew maudlin violins this afternoon. I'll write more when I can stomach it.
P.S. - I wanted to thank everyone who's been so supportive. I don't know what I would have done without my angels:. Traye, Johnny, Kevin, Justin, Joel, and more. I'll add to the list in my next posting.
March 11, 2008 - Too much has been happening for me to write. Or perhaps only bad stuff and no good stuff worthy of being chronologued. Tragically, my best friend in the world, Bob Podall, died a few months ago. He was my link to life. Been feeling so awful.
My family actually had an 'intervention' five weeks ago because they were so concerned about me. There they were, sitting in a circle, with their 'letters' begging me to gett grief counseling.
November 30, 2007 - Just finished directing a fantastic run of my play, "ROMEO AND JULIUS," in Los Angeles. I will write more in my next update. Too much going on right now to elaborate.
P.S. - Please add your prayers to mine for Robert Podall. My best friend is in Cedars-Sinai hospital. I miss his laughter, compassion and unending spirit.
August 18, 2007 - I wonder, should people be charged with CHILD ABUSE if they insist on bringing their childrend to witness the sadistic spectacle of dog fighting? I am haunted by the terrible suffering and the truly psychopathic pleasure some individuals seem to derive from watching animals tear each other apart. Shudders.
Here's another photo of Trio, the 'bait puppy' that I fostered a few years ago.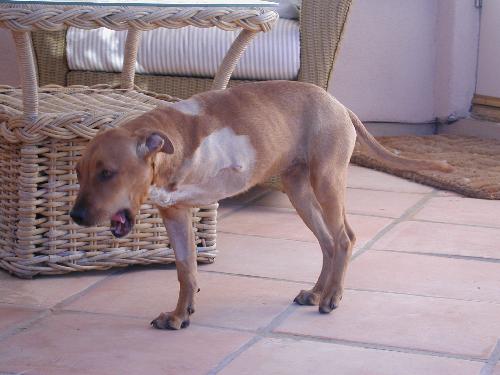 July 22, 2007 - I don't know about but I am HORRIFIED by the images I saw of dog fighting. I have been an animal lover all of my life.
I have fostered injured dogs. A few years ago I cared for a terribly injured pitbull puppy. The dog was a 'BAIT PUPPY,' thrown into the ring in order to 'train' the real fighters. TRIO, the name I gave the dog, had to have her leg amputated - it was ripped to shreds and could not be saved by the vet surgeon. Tragically, Trio never fully recovered and within two months she was DEAD.
Heaven help us if we do not do everything possible to protect innocent creatures who cannot protect themselves.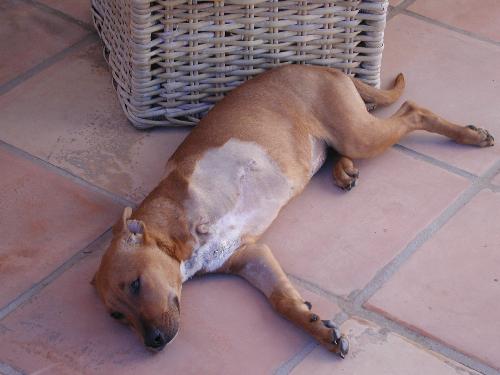 I pray to God that the charges against Mr. Michael Vick are proven to be false.
***********
June 22, 2007. GINGIVITIS - the Pros and Cons of Gum Disease. I visited my friendly dentist last week - yes - I had my teeth cleaned. And yes - it was all it was supposed to be and more. Hehehe. I've decided that one of the huge drawbacks of living in a 'rich' developed nation is the s intense social and peer pressure to maintain sparkling whites. How I envy those toothless beauties of days gone by.
ONE BRIGHT SPOT - I've adopted two kittens. Whoo-hoo! My dentist, Dr. Douglas Beischel, found a pregnant stray cat living on a busy street. He does have a kind heart, even though he scares me! (All dentists scare me BTW). Anyway, once the kittens were born, Dr. Doug found homes for all of them. He also got the mama cat spayed. Talk about nice guy! Mazel tov to Dr. Doug. There is good in the world.
June 10, 2007 - Boy do I look like a sea slug. Probably need to check my medication schedule. LOL. kinda.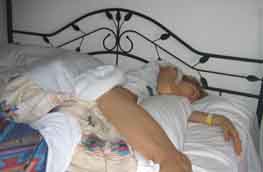 June 9, 2007 - It's been a long time since I made an entry - no wonder. Nothing worse than boring someone with the mundane details of day to day existence. And I don't want to do that - ugh. (Smiles can be deceiving!) . Perhaps I shouldn't be bored - been swamped with work for the Los Angeles production of my play, ROMEO AND JULIUS. The world is my oyster - ha - - - - - ZZZZZzzzzz. I bore myself. Thank goodness for the play, it's the one bright thing in my life. Perhaps that's because it's a whole lot more interesting and relevant than I am.